When traveling you need to know where to turn to your destination or else you will get lost if...
Be worried if you feel nothing. Feeling nothing is not an achievement of freedom from worrying. Feeling nothing could...
The Galatian church is a sickness turned into a blessing! Who was sick? How could a sickness become a...
How you look at things changes how you react to them. A terrible situation that could easily crush your...
Wisdom is slow but sure. We love rushing but it is not wisdom. The Bible tells us not to...
This is a good constant to maintain in your life. Let everything change except this. Maintain this and you...
What we believe by faith is sometimes contrasted by the reality we face. The reality almost nullifies faith. Some...
Families would like to reach a point where there is no needy person amongst them. Neighbors would be glad...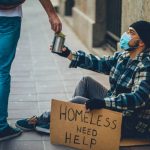 We all face threats. Threats to our lives. Threats to our livelihood. Threats to our relationships. Threats to our...
If what you rejected after a lot of reasoning and argument turns out to be the most important thing...