The sins of the southern kingdom are blamed on its capital city, Jerusalem. The sins of the northern kingdom...
Dear God, save me from loving Moresheth Gath more than you. May I never love anything more than you....
Preach against them? Is that professional? Preaching a sermon targeting someone? A sermon full of condemnation? Is it right?...
We care about our public opinion. We care about what people think and say about us. Even when we...
Should preachers be introduced to the congregation? If not, why not? If yes, how elaborate should the introduction be?...
Prophet Joel has received and is now reporting bad news that is coming upon the land of Israel. Disaster...
What if God asked you to do something that contradicts what you have known to be right? Would you...
If God brought me here, I can't worship you or treat you as if without you I wouldn't be...
God is depicted as being served by all sorts of creatures and beings. God is depicted as operating in...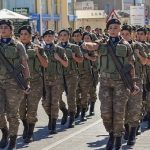 We learn from God that we need to be very patient with each other. We should follow a justice...