"My darling, you are lovely in every way." Those are the inspired words in the Holy Scriptures today. What...
A question that many are asking should be a concern to everyone. The Bible identifies this as the question...
Silence is a double-edged sword meaning it works both ways. Silence is highly recommended. If a fool is silent...
We look down upon what we have in our houses. We wish for more and better. We are dissatisfied...
When you are weak you need enabling. When you are helpless you need enabling. When you have done your...
Is homosexuality sin? Should we hate and mistreat homosexuals? Does the Bible treat homosexuals as worse than others? What...
Repay your parents and grandparents? Repay? How? For what? How much? For how long? Is this a biblical command...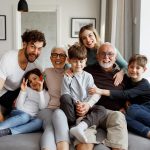 Whatever selling stands for, God's people should know that they are separated from the world but not from God....
Must love be demonstrated? What if I love without demonstrating it? Shouldn't love be reciprocated? What actions should follow...